Major Projects Showcase
The full Major Projects Showcase explores LABC Warranty's contribution to some of our notable high-rise and high-value projects. You can download a copy at the link above.
For this article, however, we'll highlight the work that LABC Warranty did on The Chain, a development for L&Q that exemplifies how the Major Projects team enhances the value of large developments.
The objective of the MPS team isn't just to inspect – they get involved early in projects, offering advice on de-risking proposed designs without sacrificing the quality and ambition of our clients' projects.
The Chain, from L&Q
About L&Q
L&Q is a major housing association based in London. They were founded in 1963, and own just shy of 100,000 homes across London and the South West region.
About The Chain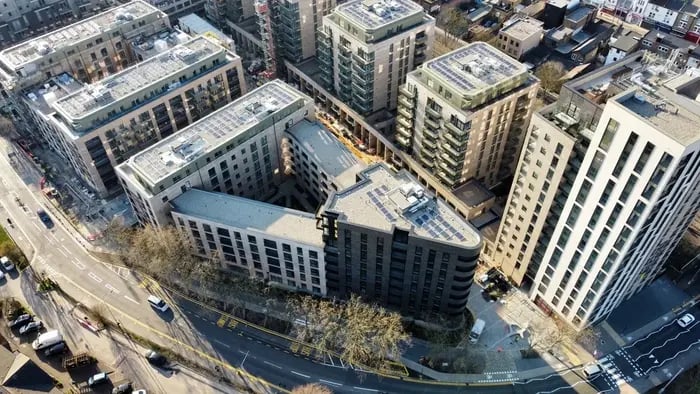 A combination of 519 new units, including homes for sale and social housing in Waltham Forest, London.
The Chain is a well-connected neighbourhood in Waltham Forest, East London. Its burgeoning arts and creative industries and abundant green spaces contribute to an urban vibrancy that makes Waltham Forest a special place to live.
LABC Warranty's work on The Chain
The Major Projects Service's support for The Chain started during the design process and continued into a smooth completion. We'll outline some of that work below.
The design process
If, and hopefully when, you talk to our Major Projects Service, the one phrase they're all-but guaranteed to use is 'early engagement'.
Our technical specialists get involved at early stages of a project and collaborate with designers to de-risk projects without harming the functional and aesthetic features that make them unique.
For The Chain, we were involved the construction drawings stage, well before construction, working with L&Q's team to promote safe outcomes.
Some of the issues that the LABC Warranty team highlighted were around fire-stopping, roofs, water ponding, and balconies.
As these issues were highlighted during the design stage, LABC Warranty supported L&Q's teams on site as construction was started.
Training and early-build support
LABC Warranty's inspectors were sure to visit L&Q and give their staff a thorough explanation of what they would be looking for in the waterproof envelope, making sure the building process went as smoothly as possible.
In addition, the issues that LABC Warranty raised during our work together at the design stage prompted L&Q to deliver a series of toolbox talks around fire-stopping, roofs, and balconies to help their staff work better with LABC Warranty and building control.
On-site support
The building process was enhanced by high-quality communication between LABC Warranty, Local Authority Building Control, and L&Q.
This communication was enhanced by frequent meetings between the three parties to preempt problems and find solutions to problem as they appeared.
Throughout the process, LABC Warranty was keen to impress that they wanted outcomes that satisfied everyone and didn't create any unnecessary delays to the building process.
Completion
A smooth handover process with the L&Q team was completed three months before the building completion – no small feat for anyone familiar with the difficulties and rigors of building on this kind of scale.
What L&Q said about LABC Warranty's work on The Chain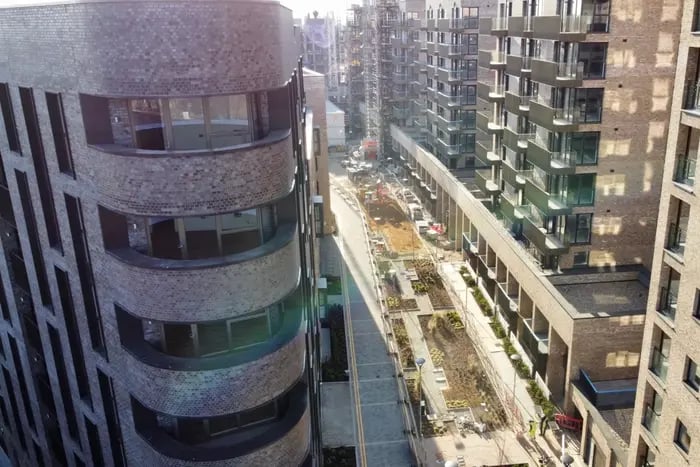 "LABC Warranty was vital from very early on in delivering The Chain. During the design stage they met with us regularly to make sure everyone was happy and confident about pre-construction choices.
"They worked with our teams to set out clear expectations, and offered training to help our staff on site know what they would be looking for, like details around the waterproof envelope.
"We were impressed by the quality of their technical expertise, their professionalism, and their investment in making sure the development was a success."
- Gareth Powell, Production Director, L&Q
More from the LABC Warranty Major Projects team
West End Gate
827 new homes, with a mix of residential and commercial units in Edgware, London.
"LABC Warranty have been involved with the project right from the early design stages all the way through to the end anticipating problems before they occur.
"The service they provide to us is excellent and the relationship we have with them is certainly one we would like to cultivate for future projects."
- Rachel Taylor, Technical Manager, Berkeley Homes
Colindale Gardens
2,526 new homes in Edgware, London. A mixture of social housing, homes for sale, homes for rent, and commercial property.
"Our London division has worked with LABC Warranty for a number of years. With their collaborative approach and early engagement, they have assisted us in delivering our homes to high quality."
- Anton Smith, Technical Director, Redrow Homes Limited
Morello II
458 new units, with a mixture of social housing, private rental, and commercial construction.
"We have enjoyed working with LABC Warranty on Morello Phase II over the last three years – Ben Smallwood in particular has been a great resource. Ben is very approachable, is always on hand to offer advice and guide us through the approval process, and his technical knowledge is always a great asset to our team.
"LABC Warranty is also very proactive about keeping project tracking up to date, so that we can clearly measure the progress being made, see what's left to do, and make sure we hit key milestones."
- Leonard Meehan, Senior Design Manager, Sir Robert McAlpine Ltd
Talk to the Major Projects Service today
If you're building over 18 metres in England or Wales, speak to LABC Warranty's Major Projects Service. The sooner we talk about the project, the more we can do to support and enhance your work.