How does Category 2 differ from Category 2?
Part M of Schedule 1 to the Building Regulations 2010 states that a Category 1 "visitable dwelling" should make reasonable provision for people to gain access and use the dwelling and its facilities. More specifically, it requires that visitors can use habitable rooms and a WC within the entrance storey (with step-free access between them) or principal storey if the entrance storey does not contain habitable rooms. Wall-mounted switches and sockets need to be reasonably accessible to people with reduced reach.
On the other hand, optional Category 2 homes are described as "accessible and adaptable dwellings" where, in addition to Category 1 requirements, the provision must be "sufficient to meet the needs of occupants with differing needs, including some older or disabled people" and "to allow adaptation of the dwelling to meet the changing needs of occupants over time." Here, there should be step-free access to the home, including any associated parking space and private outdoor space connected to the entrance storey.
Critically, a "wide range of people, including older and disabled and some wheelchair users" should be able to use the home and its sanitary features, and features should allow "common adaptations" to be added in future that improve accessibility and functionality of the home.
What are the main differences in practice?
Doors
Category 1 requires principal private entrances (front or rear main access doors) to have a minimum clear opening width of 775mm. With Category 2, this rises to 850mm. Additionally, the step-free principal Category 2 entrance should feature:
A level external landing with a minimum 1200mm width and depth, covered (by a canopy, for example) for a minimum width of 900mm and depth of 600mm
Light- or motion-sensor activated fully diffused luminaire lighting
A minimum 300mm nib provided to the leading edge of the door, where the extra width of this nib is maintained for a minimum distance of 1200mm beyond it
A maximum reveal depth on the leading side of the door (usually the inside) of 200mm.
A minimum space of 1500mm between doors and 1500mm space between door swings where there is a lobby or porch
There are also more stringent requirements for Category 2 on the approach to the home, which we are not covering here but can be found in Volume 1 of Approved Document M.
Circulation areas
The minimum widths of corridors and passageways are the same for both Categories, shown in the table below. The only difference being that Category 2 internal doors on the entrance storey should also have a minimum 300mm nib to the leading edge.
Minimum widths of corridors and passageways for a range of doorway widths
Doorway clear opening width (mm)
Corridor clear passageway width (mm)
750
900 (when approached head-on)
750
1200 (when approach is not head-on)
800
900 (when approach is not head-on)
For both Category 1 and Category 2, localised obstructions such as radiators should not be positioned opposite or close to a doorway or at a change of direction, and be no longer than 2m. The corridor width should not be reduced below a minimum of 750mm at any point.
Internal steps and stairs
Category 1 is more lenient on step changes within the entrance storey. They should be "avoided where possible" but must comply with the provisions of Part K otherwise.
Category 2 is stricter. Access to all rooms and facilities within the entrance storey must be step-free, and step changes avoided where possible on all other floors. Additionally, the staircase from the entrance storey to the floor above (or below) should have a minimum clear width of 850mm when measured 450mm above the pitch line of the treads, ignoring any newel posts. Stairs must meet the provisions of Part K for private stairs.
Sanitary facilities
Again, there is some commonality between Category 1 and Category 2 for bathrooms, shower rooms and WC/cloakroom facilities. To enable easy access to a WC, both Category 1 and Category 2 require that:
A room, which may be a WC/cloakroom or bathroom containing a WC, is provided on the entrance floor or principal floor
There is clear space to access the WC in accordance with the diagram below
The basin is positioned to avoid impeding access
The door to the room opens outwards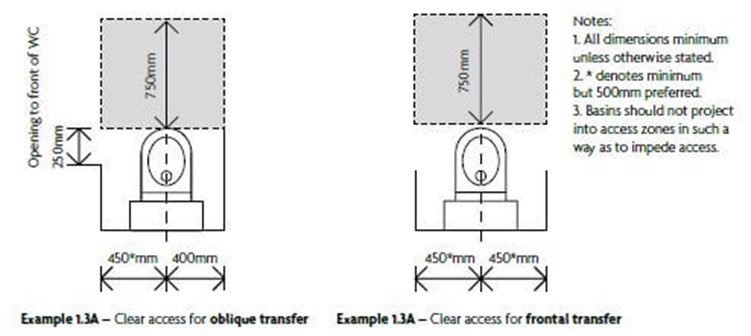 © Crown copyright, 2015. This diagram from Approved Document M is licensed under the Open Government Licence 3.0.
Category 2 provisions further require that:
Every home has a room within the entrance storey that provides a WC and basin and benefits from step-free access.

In a two or three-storey home with one or two bedrooms, the WC and basin meets the design provisions shown above
In a two or three-floor home with three or more bedrooms, the room also provides an installed level access shower or potential level access shower and meets the spacing requirements of the diagram below

The home has a bathroom containing a WC, basin and bath on the same floor as the principal double bedroom (see later), and meets the provisions of the diagram below.
Provision for a potential level access shower within the bathroom is made if not provided elsewhere within the home
All walls, ducts and boxings to the WC/cloakroom, bathroom and shower room should be strong enough to support grab rails, seats and other adaptations that could impose a load of up to 1.5kNm2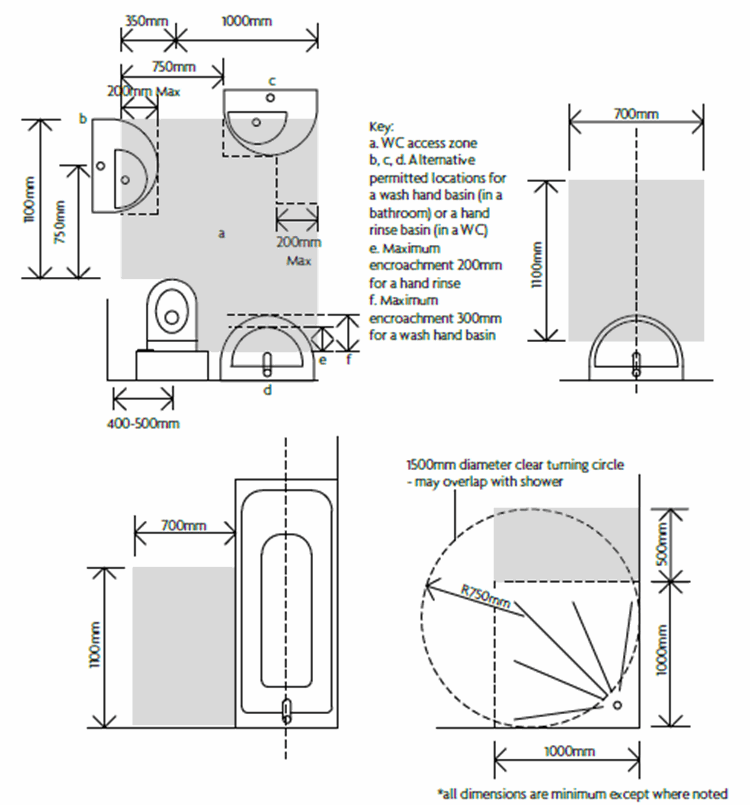 © Crown copyright, 2015. This diagram from Approved Document M is licensed under the Open Government Licence 3.0.
Habitable rooms and bedrooms – Category 2
Category 2 seeks to provide "easy, step-free access between a living area, a WC and the principal private entrance." Bedrooms also need to offer sufficient access space. Requirements include:
Providing a living area (which may be a living room, dining room or combined kitchen and dining room) within the entrance storey
Including a minimum 1200mm clear space in front of and between all kitchen units and appliances
Glazing to the main window of the principal living area starting at a maximum 850mm above floor level or the minimum height needed to comply with Part K for guarding to windows requirements
Every bedroom providing a clear access route of a minimum 750mm wide from the doorway to the window
At least one double bedroom (principal bedroom) also providing a clear access zone of 750mm minimum to both sides and the foot of the bed
Every other double bedroom providing a minimum 750mm wide clear access zone to one side and the foot of the bed, and all other bedrooms the same clear access zone to one side of each bed
Services and controls – Category 2
For people with reduced reach, a Category 2 home should ensure all services and controls comply with the following mounting heights:
Item
Height above floor level
Further note
Customer unit switches
1350mm - 1450 mm
Switches, sockets, stopcocks, and controls
450mm - 1200mm
Must be a minimum 300mm (measured horizontally) from an inside corner
The handle to at least one window in the principal living area
450mm-1200mm
Unless the window is fitted with a remote opening device within this height range
Handles to all other windows
450mm - 1200mm
Boiler timer controls and thermostats
900mm - 1200mm above finished floor level on the boiler
Or separate controllers (wired or wireless) mounted elsewhere in an accessible location with the same height range
Controls part of a radiator or cooker hood are exempt from these provisions.
This article provides more information on the provision and positioning of sockets and switches to meet warranty requirements.
Could your homes meet the Category 2 standard?
Although additional design and build considerations are required to turn a M4(1) Category 1 compliant home to the higher specified, yet optional M4(2) Category 2 standard, many new homes may meet a number of Category 2 requirements by default. With our ageing population and older buyers considering new homes as trouble-free retirement homes, designing and building to Category 2 could make sense to your organisation.
You can download both Approved Document M Volumes 1 and 2 from the LABC website here.