Electrical service and cabling
Our Technical Manual guidance in the 'Electrical installations section' recommends that, "A suitable electrical service of the appropriate size for normal domestic use shall be provided."
For cabling, PVC-covered cables should not be in contact with polystyrene insulation. Electrical cables should not be diagonal and their locations should be in accordance with the diagram below.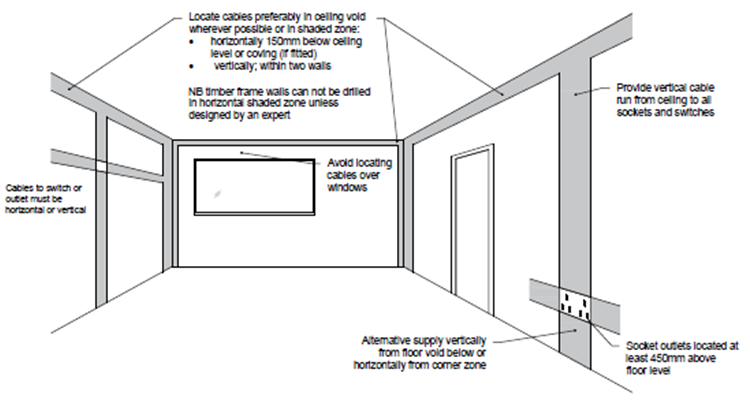 Socket outlets
Socket outlets are to be conveniently positioned in close proximity to the TV aerial and telephone outlets, thus allowing for electrical equipment including TVs and DVD players. For Warranty purposes: Rooms should be provided with the following 13a outlets:
Kitchen / Utility – 8 outlets
Dining Room – 4 outlets
Living or Family room – 8 outlets
Bedroom (main) – 6 outlets
Bedroom (other) – 4 outlets
Landing – 2 outlets
Hall – 2 outlets


Cooking
Cooking appliances provided to the cooker space in a dwelling must be suitably switched and terminated with a minimum 30a electricity supply. If a cooker panel is provided, it needs to be positioned to the side of the cooker space. A 13a socket outlet should be positioned at the cooker space where a gas supply is provided to the dwelling.
Light fittings
At least one fixed lighting outlet should be provided to all rooms. Areas greater than 25m2 are to be provided with two fixed lighting outlets.
Halls, landings and staircases are to be provided with lighting outlets and two-way switches. Down lighters and other flush-fitting attachments should not be installed through a ceiling if the ceiling is providing part of the required acoustic insulation or fire resistance to the property.
If down lighters are provided to ceilings below roof voids (excluding thatched roofs), precautions are to be taken to ensure that no fire risk is caused by the proximity of other materials.
Passive infrared (PIR) sensors are to be used in common and external areas.
Positioning of sockets and switches
Sockets and switches should be positioned in accordance with this diagram:
A consumer unit's switches should be between 1350mm and 1450mm.
You can read more about the Part P requirements in relation to the height of electrical equipment in a new home in Issue 6 of our Technical Update newsletter.