Besides adding usable space to your home, a basement conversion can help to significantly increase the value of your house.

Depending on the area, factors like access, available headroom, and the potential for natural light can significantly affect the value per square metre of a basement conversion.

In some areas, however, there is considered to be a 'ceiling' value for property prices that, no matter how beautifully converted your basement, is hard to surpass.

It can be worth consulting a local estate agent for their opinion before making hard and fast decisions regarding the nature of the basement development to undertake.
It is worth noting, however, that many London authorities now limit retro-fit basements to a single storey beneath a property and a maximum of 50% of the rear gardens. This was to stop so-called "Iceberg" basements in the most expensive areas of the capital.
Factors affecting cost
A basement conversion will always work out cheaper if there is no excavation required – either to create the underground space from scratch or increase the headroom in an existing basement. Difficulties with excavation can include:
concrete oversite slabs at the ground floor
sewer and drain diversion
difficult ground conditions, e.g. rock, clay, sand, peat, marsh
a high water table
access for removing excavated materials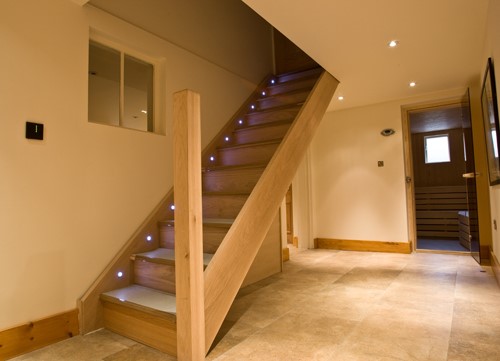 Costs for basement work can vary significantly depending on the jobs to be undertaken

An idea of the costs involved:
Conversion of an existing cellar: £750 – £1,400 per square metre
Lowering the floor level and underpinning an existing cellar: £1,500 – £2,000 per square metre
Digging a new basement space and underpinning: £2,000 – £3,000 per square metre
Digging a new basement space underneath a garden: £1,500 – £2,000 per square metre
Creating a lightwell / external access: £5,000 – £7,500
Engineer's fees: £1,500 – £2,000 plus a percentage of the contract sum
Planning application, if required: £165
Building Regulations application: £750+ depending on the value of the work undertaken
Party wall agreements, if required: £700 per neighbour. Leasehold properties could be subject to party wall awards for each level – ground floor, first floor, second floor and so on
VAT: an additional 20% added by VAT-registered contractors
Before you embark on your basement project ensure you take all of these factors into consideration to make your investment worthwhile.
For more information on the construction of basements to meet our warranty requirements, download Section 2 of the LABC Warranty technical manual.
Also take a look at ASUC's guidelines on basement construction, issued in 2013 and revised in 2016.