Explaining the benefits
In recent reports from the New Homes Review, it's been reported that almost 9 out of 10 buyers of new homes understand the importance of a structural warranty. With your help, we want to ensure as many people as possible understand how they could benefit.
When you order structural warranty insurance from us, we will provide you with the following documents:
You can also order "show home" brochures from us, which provide a pre-move-in introduction to structural warranty cover for customers, giving them additional reassurance about their new home. Why not order some promotional flags, stickers and other marketing materials for your site, too?
Finally, the homeowner section on our website provides a wealth of information for new-home customers, including a handbook packed with information on how to "run-in" a new home and a comprehensive explanation of the differences between snags and defects.
It also includes advice on making a claim, including an online portal where all claims actions can be managed in one place.
Making a claim
There are two main periods which make up a structural warranty's total cover period, as the downloadable infographic explains: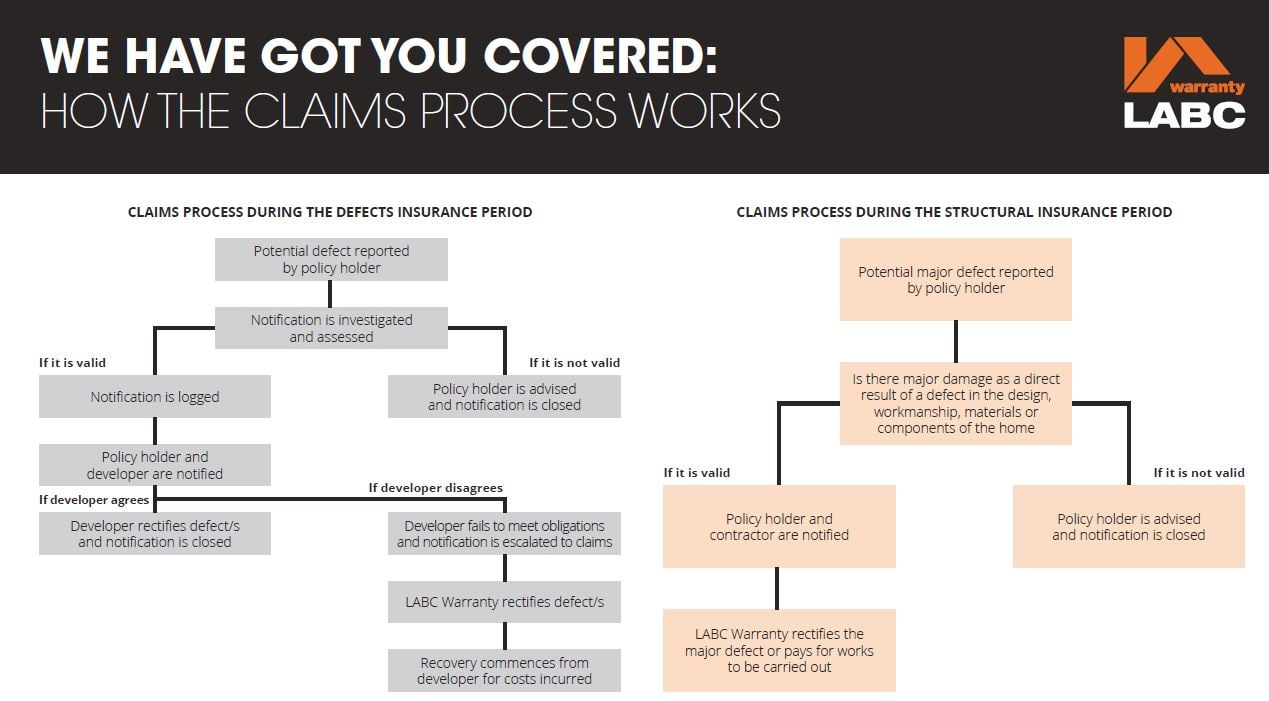 The first is called the Defects Insurance Period, during which time the contractor is responsible for putting right any defects in the home. Should there be any issue around resolving a valid claim, LABC Warranty can also provide a dispute resolution service to the policy holder.
The second period, the Structural Insurance Period, is much longer and sees out the rest of the policy's term. If the policy holder has a valid claim for a major defect during this period, the insurer will correct the problem.
It is important to ensure that your residents and customers have a copy of the policy cover so they can check what is included and what is excluded. They can refer to this document in the unfortunate event that they may believe they have a case for a claim.
They can make a claim online using our new online claims and notification portal.
Learn more
You can find out more about our structural warranty policies and the associated services we provide by reading our Guide to Services brochure.