Structural warranty in the post-Building Safety Act world of accountability
The Building Safety Act will lead to substantial changes in working practices and major changes in the industry.
Perhaps surprisingly, our specialist Major Project Service providing latent defects warranty cover for residential new homes, social housing, private rental schemes, commercial and refurbished projects have not experienced the same kind of seismic changes as other areas of the building industry.
This in part is due to our early engagement approach at LABC Warranty. Using our solutions-based approach we are equipped to help the Project Team anticipate technical risks before they occur on site, communicating to all stakeholders ensuring they know where they stand to support delivery of the project.
Regardless of design approach, our enduring commitment is to support project teams like yours to deliver high quality schemes every time.
As the legal and regulatory implications of the Building Safety Act unfold the importance of working with organisations which have strong partnerships such as Local Authority Building Control (LABC) and LABC Warranty in the pre-construction process, providing consistent advice at an early stage, is clear.
Notably, the consultation for changes to the building control profession closed on the 14th March, 2023 following Dame Judith raising specific concerns about "the lack of a level playing field" for Approved Inspectors and Local Authority Building Control, with the different statutory and non-statutory processes leading to incoherence, confusion and complexity in the system. 
Our early engagement supports your organisation to make decisions on design and procurement earlier. In an inflationary environment, this relationship has provided a strategic edge to LABC Warranty clients.
---
Significant changes from the Building Safety Act
It creates a new Building Safety Regulator (BSR) that will oversee the safety and quality of high-rise residential buildings (HRBs).
It introduces new roles and responsibilities for those involved in the design, construction and management of HRBs, such as Principal Accountable Persons (PAPs), Accountable Persons (APs), Building Safety Managers (BSMs) and Dutyholders.
It requires PAPs to register their buildings with the BSR, prepare a safety case report for each building, appoint a BSM and comply with building safety standards.
It gives residents more rights and powers to raise concerns about their buildings and access information about their safety, giving them a say on issues pre and post construction.
It will strengthen the construction products regulatory regime, with new requirements to make sure all construction products on the UK market are safe for their intended use, with a National Regulator for Construction Products to monitor and enforce this.
The main changes that will be implemented in October 20231 are:
All occupied HRBs must be registered with the BSR by this date. It is an offence if a building is occupied but not registered after this date.

The BSR will start to call in buildings for assessment and issue Building Assurance Certificates.

Registration deadline for existing occupied buildings. From now on all new buildings must be registered before being occupied.

Building inspector and building control approver registers open, where the consultation.
---
LABC Warranty, The Audit Trail and the move towards the "Golden Thread"
In the era of golden threads and accountable people, there are even more benefits. High-quality information put into the thread at early stages, such as RIBA Design Stage 2, will need to be carefully managed and stored to create the audit trail necessary to not only understand what decisions were made, but also "why."
The Building Safety Act 2022 will provide residents in high-rise buildings more rights and powers to raise concerns about their buildings and access information about their safety. Some of these rights and powers include that residents can report any building safety issues or risks to their Accountable Person (AP) or Building Safety Manager (BSM), who must respond within a reasonable time2.
Additionally, residents can require access to building safety related documents and information from their AP or BSM, such as the safety case report, the building assurance certificate, and the fire risk assessment and can escalate their concerns to the Building Safety Regulator (BSR) if they are not satisfied with how their AP or BSM has handled them3.
Early engagement in action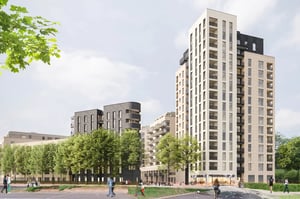 LABC Warranty was vital in supporting the prestigious and very successful project "The Chain" in East London for L&Q from late RIBA Stage 2 onward.
During the design stage, L&Q worked with LABC Warranty and LABC to attend workshops and agree technical approaches to ensure confidence regarding pre-construction choices, accessing expert advice and guidance from LABC Warranty on how to achieve high standards of quality and safety throughout the construction process, a collaboration that followed on to the site itself delivering extremely high quality results which speak for themselves.
Read more about the value of Early Engagement, and the work of the Major Projects team, in LABC Warranty's Major Projects Showcase Brochure.
LABC Warranty worked with our teams to set out clear expectations, and offered training to help our staff on site know what they would be looking for.

We were impressed by the quality of LABC Warranty's technical expertise, their professionalism and their investment in making sure the development was a success.

Gareth Powell, Production Director, L&Q
LABC and LABC Warranty partnering with you
Exclusive warranty to LABC, LABC Warranty is the perfect partner to your business to offer you a service that provides more than just a certificate at the end, combining LABC themselves to provide support for your schemes to achieve your design aims on crucial design choices.
Our customers often benefit from the Partner Authority Scheme4 operated by LABC, shared by all local authority building control teams in England and Wales, and you can choose to work with any local authority building control surveyor to undertake all pre-application and design work.
This is regardless of the project's geographical location further cementing consistency, whilst at the same benefitting from the local experience of the site team to ensure you have the best possible outcomes for your project.
Combined with LABC Warranty's technical expertise we are equipped to deal with the most complex projects in the UK.
What to do for your next project
The earlier that LABC Warranty know about your next development, the more our Major Projects Service can do to help you.
With surveyors positioned locally to the main cities across the UK we look to work with you to discuss your business' strategic needs, helping provide a consistent approach to your pipeline of work. As a partnership with LABC Building Control, we can help provide technical support to your projects across the UK.
LABC Warranty has always been able to offer huge value to high-rise developers early in the development process, and the value of that role will only grow as the implications of the Building Safety Act become more defined and pass into law.
Get in touch now to talk about your next development.