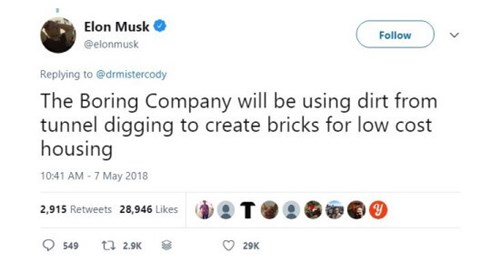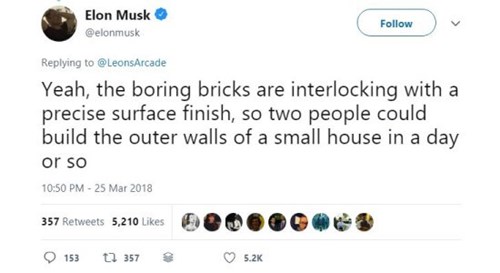 Company Spokesman, Sam Teller, confirmed the plans, saying that the bricks would be made from the 'excavated muck' produced as a by-product of the tunnelling.
Musk in an avid user of social media and has used Twitter in particular as a platform to launch other massive projects in the past, including the Boring Company itself (see below).
With housing a key issue all over the world at the moment this endeavour could come at the perfect time. Many countries are dealing with skyrocketing house prices and entire generations being priced out of the chance to own a home. Others are dealing with huge portions of the population living in near slum conditions, without permanent roofs over their heads. In either case a cheaper and more readily available building materials could provide an excellent solution to the problem.
The Boring Company also suggested that it may use the bricks to replace some of the concrete proposed to be used for a portion of its tunnels' linings, which would be more environmentally friendly. This is largely due to the fact that concrete, the current material in use, actually causes a fair amount of greenhouse gasses when it's being produced.

More information on the machine which compacts the dirt from the tunnels into usable bricks can be found here.