When are lateral restraint straps required?
At floor and roof constructions, walls require lateral restraint by tension straps in accordance with the provisions in BS EN 1996-2:2006 and Building Regulation requirements.

Lateral restraint straps are required at floor and rafter or flat roof member levels. If you are building a pitched roof you will also need to use straps at ceiling joist levels. Provision is necessary, should the height of the wall exceed recommended values found in BS EN 1995-1-1:2004 and current Building Regulations.
Best practice of lateral restraint straps
Ensure all restraint straps fit tightly against the masonry face within the cavity.
Use blocking in the gap between the joist / rafter and the parallel wall at all lateral restraint strap positions as well as in between joist / rafters for the length of strap required.
Lateral restraint straps at floor or roof level must not be retro fitted by plug and screwing the strap to the masonry.
Restraint straps must turn down the cavity by at least 100mm and be tight against the face of the wall.


Timber floor / wall detail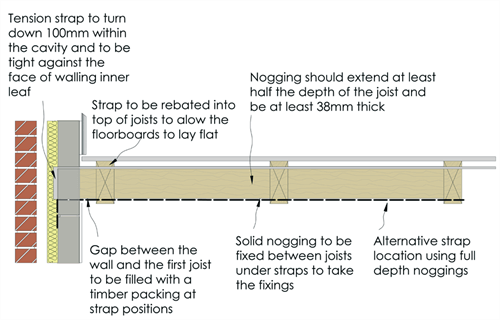 Suspended concrete beam and block floor / wall detail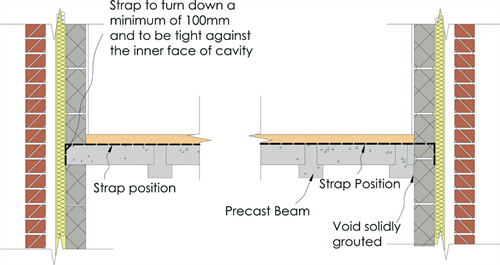 Rafter / gable wall detail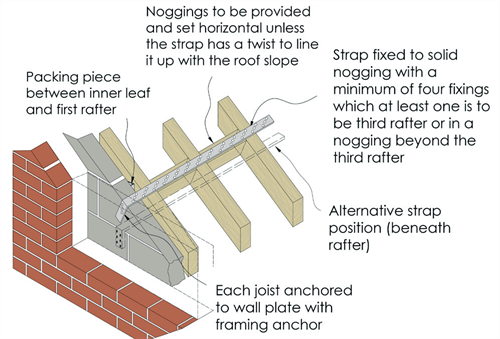 For more information please refer to our Technical Manual and check out our blog on how to use lateral restraints during construction.