Construction of stairways
Staircases, newels, balustrades and handrails are to be adequately fixed to avoid excessive deflection.

Strings are required on staircases to provide a secure fix to an adjacent wall, and the wall should be of masonry or timber stud construction. Do not rely solely on the top tread for fixing. Stair strings are recommended to have fixings at 900mm centres. The fixings should be at least 6mm diameter screws that penetrate into the masonry wall or timber stud by at least 60mm.
Dimensions
Unless it is for a means of entrance/exit within a communal type building, there is no longer guidance given for a minimum width of a staircase. In these circumstances, the width and pitch, for example, will be determined by the building's use.

All staircases within domestic units are to have a maximum rise of 220mm, with a minimum going of 220mm, although the stair pitch, which is a line connecting all nosing's, should not exceed 42°.

The dimensions for a Private stair are as follows (all in mm):
| Type | Dimensions (mm) |
| --- | --- |
| Maximum rise | 220 |
| Minimum going | 220 (225 in Scotland) |
| Minimum tread width to a winder | 50 |
| Minimum headroom over the flight and landing (above the nosing pitch) | 2000 |
| Non-climbable handrails and guarding over the flight and landing | 900 - 1000 |
| Any gap within a riser or guarding | < 100 |
Handrails
Handrail design should ensure:
A firm handhold
Trapping or injuring the hand is prevented
A minimum 25mm clearance at the back of the handrail
Secure fixing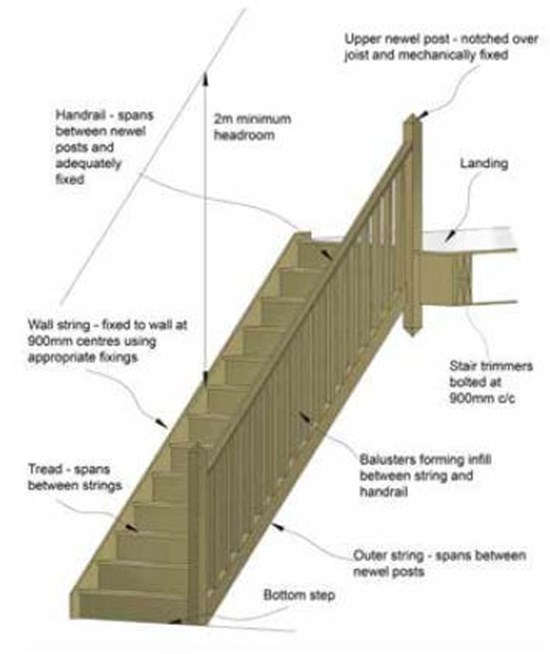 Where the staircase is greater than or equal to 1000mm, a handrail should be provided to both sides of the staircase.
Location and fixing
Headroom:

The overall floor opening is to be checked for the size required to accept the stairs and allow for sufficient headroom. The minimum headroom above the stairs is to be measured vertically from the pitch line. The clear headroom should be 2m over the entire length and width of a stairway, including landings.

Overall vertical rise:

Staircases are traditionally manufactured off-site, so the floor-to-floor dimensions should be extremely accurate, although an allowance should be made for floor finishes to structural floors or staircase treads

Pitch:

Staircases should be accurately located and fixed with the string at the correct angle, so that all treads are horizontal

Landings:

Landings are to be properly framed to provide full support to, and secure fixings for, flights, nosing's, newels, apron linings and so on

Floor finishes:

Allowance should be made for stair and floor finishes, ensuring that all risers are equal

Pitch:

As stated above, the maximum angle of pitch of a private (individual home) stairway should not exceed: 42°

Lighting:

Artificial light sources should be provided to all staircases and landings. Within a dwelling, lighting to stairs should be controlled by two-way switching. Automatic light-sensitive controls may be used in common areas, provided lights can also be two-way switched manually
Where staircases are lit by glazing, any glass immediately adjacent to the stair should be:
Protected by a balustrade or railing, or
Toughened or laminated glass, or
Constructed of glass blocks
To find out more about our warranty requirements for staircases in individual domestic properties, refer to Chapter 8 of our Technical Manual.