Construction of walls
Set out walls using securely marked profiles with reference lines and datum levels.
Wall lengths should be checked for squareness.
Cross check against diagonal measurements from the Architect's plans.
The position of openings must be anticipated to ensure correct and even bonding occurs: both horizontally and vertically.
Avoid overstressing mortar by building rises of no more than 1.5m per day.
Both leaves of a cavity wall should be built at the same time to avoid incorrect coursing and potential. weakening of an individual leaf (if left unsupported for any length of time).


Laying bricks and blocks
Follow this best practice guide for laying bricks and blocks to ensure your walls comply with our technical standards:
Bricks and blocks should be laid level (use the table below as a guide).
Use a regular bond with a nominal 10mm horizontal bed joint (unless otherwise specified by the designer).
Fill cross joints.
Perpends should be kept vertically aligned as the work proceeds.
Lay 'frog' bricks with the frog uppermost, which then must be filled with mortar to ensure the wall is stronger and more resistant to sound transmission.
Lay hollow blocks on shell bedding with the vertical joints filled.
Ensure a consistent bond, especially at corners.
Set each wall tie a minimum of 50mm into both masonry leaves.
Keep the cavity and insulation clear of any mortar droppings.


Guide for Horizontal and Vertical Alignment of Masonry walls
The dimensions in the table below represent the level that can be reasonably achieved for general brick and block work masonry.
| Dimension | Permissible deviation |
| --- | --- |
| Straightness in any 5m length | + / - 10 mm |
| Verticality up to 2.5 m height | + / - 10 mm |
| Verticality up to 7m height | + / - 20 mm |
How not to vertically align your wall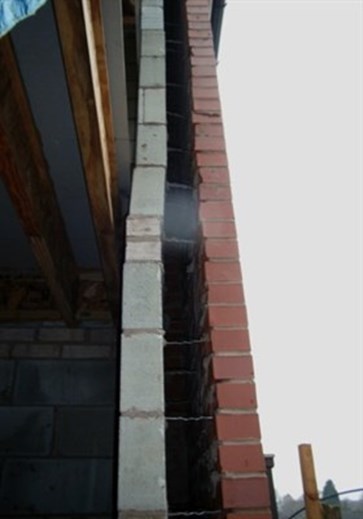 The vertical alignment of the load bearing inner leaf of block work exceeds the above recommendations.
What's wrong with the picture below?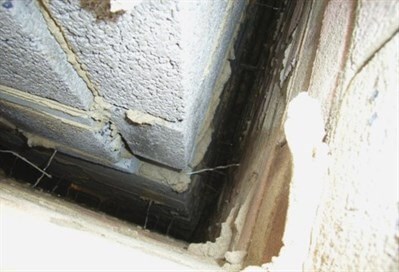 The bonding is inconsistent causing vertical joints to coincide on consecutive courses.
The correct length and type of wall ties have not been used to ensure they are properly bedded into each leaf of masonry
Don't forget to download your easy to use checklist for building masonry walls.