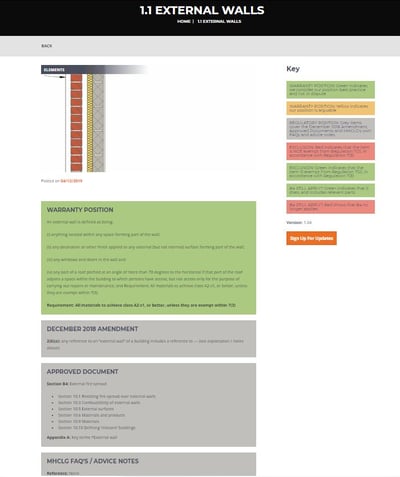 Access our External Wall Fire Safety for Relevant Buildings: Elements Resource Tool
The Building (Amendment) Regulations 2018 and associated amendment to Approved Document B came into force on 21 December 2018.
As well as defining what constitutes an 'external wall' and restricting the use of combustible materials within these walls, the amendments, which are additional to existing requirements, affect how relevant buildings are designed and which materials can be used.
This resource enables you to cross check the relevant regulatory and warranty (LABC Warranty) positions against the elements, systems, materials and arrangements in the external wall construction type you are using.
Please ensure that you refer to these guidance notes when using this resource.
The resource is intended for use by
Architects
Façade consultants
Engineers
Developers
Contractors
Disclaimer: The information in this document is believed to be correct in light of information currently available and at the time of publication but is not guaranteed. Neither LABC Warranty nor its agents can accept responsibility in respect of the contents or any events arising from the use of the information contained within this site. The guidance provided does not replace the reader's professional judgement and any construction project should comply with the relevant Building Regulations or applicable technical standards. For the most up to date LABC Warranty technical guidance please refer to your Risk Management Surveyor and the latest version of the LABC Warranty Technical Manual.