Insulation materials for timber-frame, external brick clad structures
Insulation materials should be chosen with consideration for their breathability and interaction with the timber frame.
Thermal insulation products typically used are:
Mineral fibre (glass or rock)
Wood fibre / wool
Blown cellulose
Other insulation materials may be used subject to relevant third-party certification.
Insulation may be specified in any or all of the following locations:
Between the load-bearing studs
On the outside of the timber frame
On the inside of the timber frame
Insulation installed to the outside of the timber frame structure (within the cavity) should have third-party certification for this application and retain a minimum of a clear 50mm cavity. The outer layer of insulation should also be covered with a breather membrane adjacent to the cavity.
External walls should be subject to U-Value and condensation risk calculations. A wall build up will be considered satisfactory if there is no calculated risk of surface or interstitial condensation at any time of the year, and it fulfils the minimum national requirement for thermal performance.

Special consideration should be given to condensation risk where non-breathable insulation products are installed on the outside of the timber frame structure. Joints between foil-faced external insulation boards must not be taped as this forms a vapour control layer on the cold side of the insulation.

Depending on the specification of insulation materials to be added to the structural frame, timber battens may be required to support the insulation or allow fixing of plasterboard linings, or external cladding.
Guidance on installation of insulation
If insulation is specified between external walls studs, all voids shall be filled with insulation to maintain the thermal envelope of the building. When noggins or boards are installed between studs to support services or heavy fittings the void behind them shall be fully insulated.
Insulation should not be installed until the structural timber frame is below 20% moisture content and the building is weather tight, as wet insulation can retain moisture. If closed panel timber frame is specified, additional care must be taken to protect the panels from exposure to moisture during construction with moisture content checks carried out before full closure.

Do note that the above also applies equally to insulated party wall cavities.
Insulation installed within the cavity
If external wall insulation is to be used:
Insulation should be installed in a manner to maintain its stated performance by minimising gaps that lead to thermal bridging and air washing
Installation should be covered with a breather membrane to ensure that external wall cavity moisture does not become trapped in or between the insulation and the timber frame
Cavity trays should be fixed and lapped over the cavity facing breather membrane to deflect cavity moisture away from the timber frame
Allowance should be made for differential movement to occur at floor zones
Cavity barriers should be tightly fitting; depending on the type of insulation used, cavity barriers may need to pass through the insulation, back to solid timber within the timber frame structure behind and remain effective in a fire
It should not retain or transmit moisture to cause the timber structure to exceed 20% moisture content
Stud locator marks should be transferred onto the outer face of the breather membrane adjacent to the external wall cavity
Wall ties should transfer loads to the timber frame structure. To achieve this, wall ties will typically need to be installed through the external insulation rather than bearing onto it
Joints between foil faced insulation boards must not be taped
Below: Conventional wall with insulation between studs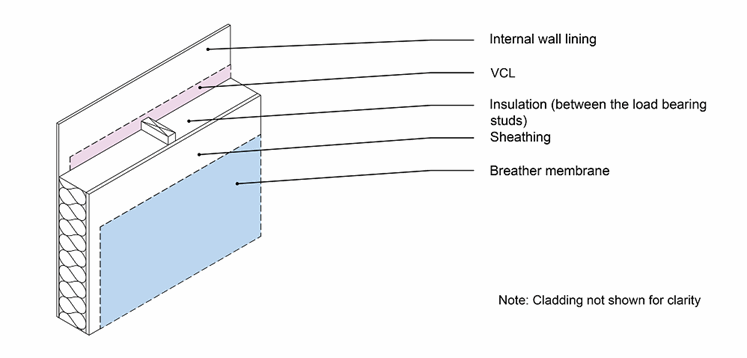 Below: Continuous internal insulation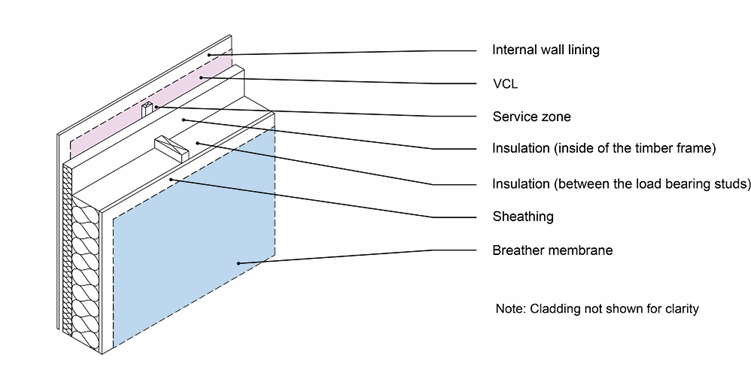 Below: Continuous external insulation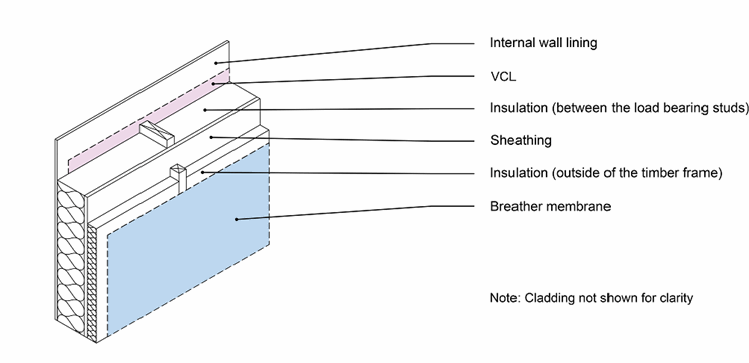 Looking for more information on insulation?